Talk 1: Jon Tonks
"..Whose recent book and exhibition 'Empire' has achieved significant acclaim (one of Martin Parr's best Photobooks of the year). Jon will be talking about the development of the Empire project, commissioned work and current work in progress. You can see his work here" - Stephen Vaughan's
Jon Tonks is a photographer based in Bath, England and has been featured in a number of Journals, Magazines, and News Organizations. He's also won numerous awards for his fantastic work. Funnily enough, Jon doesn't believe he took much away from his degree in photography, he even chuckles as he mentions he achieved the bare minimum. He ended up sending travel photography to magazines and organizations to get freelance work. But his work typically tip toes around British humor while being framed in square format color film.
Tonks spent a month investigating and photographing Ascension Island. Today it is a military base. He ended up going back to the volcanic island three times. It was extremely difficult to do, especially as a student. He applied for a career development loan (during his MA), and also had to fly in with the RAF. There, the first garrison building (1820's) consisted of military barracks. He started research while he was there by looking at the newspaper. It wasn't a solid organization, each paper consisted of maybe 12 pieces of paper that are photocopied and stapled to together. He found that there is a beauty pageant every few years.
He had also found that there are only two cows left on the island. And one of them died. Since the runways were built, the Americans imported everything from home. And when they left, the cattle were all slaughtered, except for two. There is a lot more meaning to this photograph when you hear about it's background.
After he showed the project for his masters, he then began considering the other islands amongst Ascension. He then went to St. Helena. You can only take a boat there. It's a five day ride from Cape Town. He ended up photographing the man who owned the bed and breakfast (with the Rolls Royce). He would drive people to and from the docks.
Tonks also explored the prison on the island. This woman grew up (Linda) in the prison, somewhat. Her parents were prison cooks back in the day, she eventually became a cook, and then eventually ran it. Space for 12 people, it was full. If your crime was more than five years, you were shipped to the UK. People typically get shorter sentences here because they don't want to do so. The upstairs also used to be a video rental shop in the 90's.
A lot of the cars on the island were basically chronically being fixed, since not many new cars existed there. He also met a man who releases weather balloons everyday. At 11:15 precisely. Since 1976 Marcus has been the Gov. on the island (appointed by the Queen). Jon wrote to him to meet him and take a photograph. He then found the invite tucked under his door, inviting him to dinner. His wife's name was crossed out, since she dramatically injured herself during tennis and could not attend. Inside the plantation house, there is a portrait of the queen. Photo of Andrew Ger- sat with his dog. St. Helena day, a big day. It was where napoleon was incarcerated. They have a guy the same height who dresses up as him for the festival day. They went to take the photo, but changed the union jack flag to a french flag.
People said to him that you can't go to St Helena and not go to Tristan Da Cunha. So then he decided to take a cargo ship out there. Jon followed the same principals for the project's journey, spending a month meeting people and discovering the story of Tristan Da Cunha. Approximately 260 British people live there. They forgot to pick up the beer from cape town, so for the entire month he was there, there was absolutely no beer available.
He ended up staying in a house with a family. He instantly made a family connection, essentially protect him. Tonks also ended up taking pictures and telling people he was an artist, not a journalist, people were not as a alarmed that way. Conrad, a policeman, had been there for 25 years (and still hasn't arrested someone). He showed Tonks his gun cupboard, then posed in all of his gear for his portrait.
There are 7 surnames on the island. Two Italians set fire to their boats long ago, and the people of the island saved them, then their genes were passed down into the following people of the island. There are more girls in the class photo. This becomes a problem in the future, when they are teens in search of boyfriends. This leaves some resorting to being with men considerably older than them or leaving the island. Harold, lives behind the volcano that erupted and sent everyone back to UK. When he had his doorframe was replaced, he didn't know what to do with the keys, so he threw them away. People on the island don't lock their homes, people welcomingly walk into each others homes.
"Tristan Da Cunha, Le Bout du Monde le Vrai" was an article where his photos were published (in French). With this piece, he was syndicating through Getty images. The Sunday times ran it as well. He found geo mag wanted to pay 4,000 euros to place it in their mag too. He then took it through Getty as he was contractually bound. He only received 1,000 pounds because of the percentages Getty makes off of him.
After seeing all of those places, he decided he wanted to go to the Falkland Islands. Another British connection. He got an offer to put together the next project. He would shoot for a month and then had 3 more months to edit and prepare to send them in. He knew he was going to get paid, so he did spend more freely in getting the project executed. During the project, Tonks walked into a school to take pictures and didn't have to sign a single form, unlike back at home. He also shot a pictures of German tourists fascinated by a gnome garden. Everyone there also has a few jobs.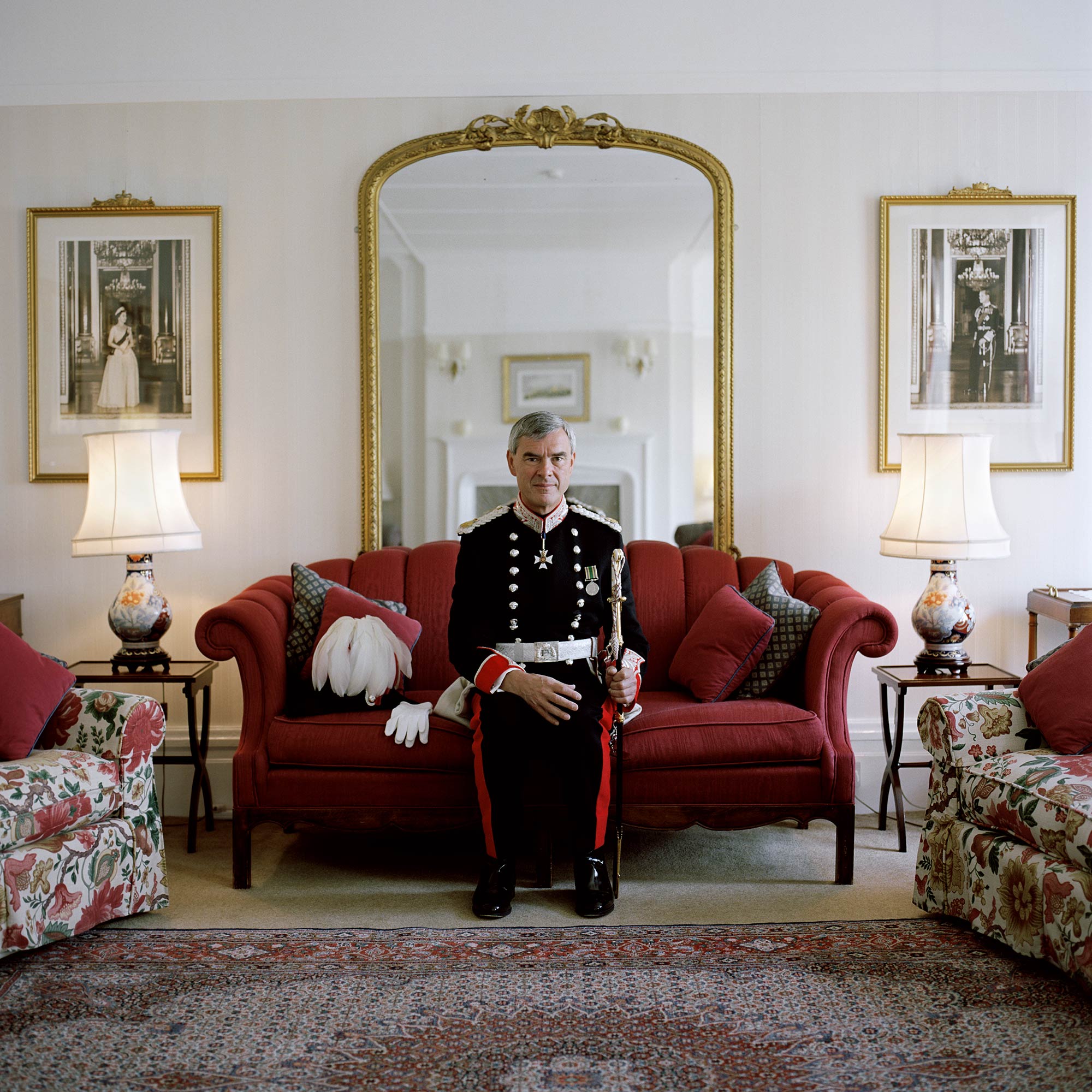 The Sunday Times (2012) ran a handful of the images from the project. Time (Lightbox) also ran his photos as "The Forgotten Empire". Portfolio reviews help you get this kind of work published. He decided he wanted to make a book of it. Martin Parr called him saying he wanted to talk about the work since he came across it. Martin parr ended up helping him edit what the book would be like. When they were editing, they were trying for 20 pics from each trip/per chapter. One of the chapters, for St. Helena, they could only pick out 15 pictures. And the reason why is that he only spent 8 days there, not a month. Martin Parr told him he needed to go back. And so he did. St. Helena's portion then became the strongest chapter in the book. Because it's a labour of love and he made the decision to return.
Typically, you run 500-2,000 books. Unless you are one of those top photographers, but that isn't always the best. Tonks ended up doing 1,000 for the first round, and then a little more than that for the second edition. He payed for the publishing upfront with most of his own money, about £10.000. He found that it was extremely valuable to use a publisher. It's 4-5 thousand more to use one, and you get the amazing experience and benefits. If you don't use one, you end up having issues with storage and distribution. If you self publish, you end up with living room full of boxes and no plan laid out for you. He negotiated a deal to get 300 copies of the book for himself to distribute, he sold those online (including signed copies). The rest where sold through the publisher. For a month, he was shipping out the books. The second edition, he has a bit of stock of as well. (Tonks used Dewi Lewis Publishers)
While designing the book, he did have a dummy. When he was making way, he used blurb to make a few dummies as well. It's extremely helpful, although the quality isn't final product level, it helps a lot to have a dummy nicer than floppy home printer versions. He worked with a designer while designed the book himself. A majority of the book was designed ahead of time, then the publisher did discuss which images will and will not work. It's best to look at it as more of a discussion, not argument.
What Next? How to Move On..
He is now working on a project in the South Pacific. It's called 'Cargo Cults' (regarding the Second World War). During the time period, tribal islands found a mass of American soldiers coming in. They came with modern technologies. Once they left, the tribes wanted more of this stuff. After the Americans left, instead of bringing all the gear back, they sunk it all. They didn't even give it to the locals. So the locals decided to emulate the Americans. They dress up as them and believe that it will bring such wealths back to the islands. The project is ultimately a mix of meeting these people and creating landscapes.
A man called Kevin, from Boston, came to the island and claim to be a God from the west. Jon is researching the history of the island, and why people are attracted to the island. There is also a man in the south of France who believes he is the king of the island. They held a strange ceremony in Berlin. When he came to visit the island, he showed this photo to the islanders, and they had no idea who he was. So the legitimacy of this is partially fragmented. Jon convinced him to come to the island to be photographed. He dressed as an orthodox priest and did a pointless ceremony. He turned up and realized that people didn't know him. He expected 2,000 people to show up to greet and welcome him. Another man named 'Frank' moved from Norway to be on the island forever. Jon recently found out he left, meaning the dream had failed to continue.
Advice:
Collaborate. Connect with writers, they focus on the story well. So having someone else with you is powerful.
Take your time. Employing time means you will have a more broader and interesting project in your hands. don't be quick to finish/sell. Make contacts.
Go to photography events. Helps you meet people face to face (instead of trying to email them).
Posting things helps. Always keep updating your work's presence on your website. Show on going work.
Use mail. Hand write letters.
Talk 2: Matt Shonfeld
"the Executive Director of Institute, a media company that represents some of the world's leading contemporary photographers (such as Simon Norfolk, Christina De Middel, David Maisel etc)." -Stephen Vaughan
The Photography Business
Today, Matt Shonfeld is the Executive Director of Institute, an artist management company. Matt originally studied economics. He got involved with Photography through traveling, and one day decided he wanted it to be his profession. Since it was 20 years ago, he was able to do it. He was finding clients and selling your work. He covered a lot of stories for several top name magazines. He would take part in large projects. While he's shooting a project somewhere, he will often get requests to shoot while there or in other awesome places with new and upcoming stories.
Matt spent 9 months in India while being commissioned by The New York Times to cover several stories. He was asked to produced insight to the Bollywood world. He used to shoot in studios and actors houses. Photojournalism is definitely his forte. He also worked with a NGO. They recommend you do that. He took photos of doctors restoring pointless blindness in third world countries. Matt is most known for the story he did on a terrorist movement. He ended up being kidnapped during that project.
On Funding Projects and Personal Work
He originally worked through Network, an agency that works with many awesome photographers. They have agents all over the world and were useful in many ways while being very proactive/reactive. Today, his business is successful now because he's proactive now when it comes to getting a project running and being able to fund it. Longform photojournalism is what they aim for today. Not current news stories, but spending long portions of time, effort, and passion on a known/longterm story.
Clients
You could be amazing, but you need to get to know people before you are hired by them. Find out who the editors are, who the curators are, know who you need to write to or call to. He deletes emails that address the company, not the person. Make sure you find out who you are writing to, otherwise it's pointless. Establish what kind of clients you want to work with and who they are.
Distribution Streams
It's very easy for clients to say that this would be good for your career, getting views, not getting paid. They technically need you, they need content. All of the people in these companies have paid staff, but it's disgusting since they make money off of "free" content. Don't give away work for free. If there is no advertising on the site, then there might be an opportunity available, but it's not very likely.
The Business
These days, image stock, is less valuable than you think. Occasionally, something like that can happen. Generally, you don't make money out of it. A couple people involved with Institute had been documenting Tax evasion areas. They had done the work a long time ago, but now that the panama papers has been happening, everyone is paying to get a hold of those photos. And it's a case of having access, since no one can get into Panama right now to photograph.
Last stock library job he had, he worked with Kelly Shell. She had the access and insight to focus on a public figure, Barack Obama. She became really close to him and created her own access point. The White House only has one staff photographer. She ended up being the other inside look. The President's "photographer friend" is pretty much the only other person who gets this kind of access. She became Time's exclusive photographer for Obama.
Institute- Built from Scratch
Institute began when Seven Agency's director combined with Matt to create a model that allows photographers to work with their agency without loosing all their money for hard work. Seven Agency is made up of 7 photographers who document world crisis and they are based in the UK and USA. They can help artists by controlling how their work is used. Not only want to dive into what they have done, but also what they want to do. They help photographers licensing content. He's not interested in representing a name, but people who are working and producing amazing work. Clients need to be stimulated. You need to be able to communicate what you are doing to the clients to keep them interested. And tear sheets can lead to other opportunities in the future. As soon as you get published, it's all uphill. They might be inspired by that kind of work.
Communication is absolutely key in this business. There is a lot to be said for a photographer's continuing blog. When someone looks at your work, it's advantageous if the work seen keeps changing, leaving you enticed by the new content. If there is always something different, you're working. You're current.
Institute works a lot with National Geographic. They don't do one day jobs anymore. And they priced their business out of that market. Their photographers are working on longer on projects. Only seldom do they do a day long assignment, like a portrait, for known figures.
Editorial
Some people say it's dead. It does need a reviving every once in a while, but it feeds the publishers in the commercial field. Fine art photographers are known for doing editorial. Commercials often end up doing editorial photography too. UK magazines typically say if you do a job with them, they want to syndicate your work and own 50% of your work. But they don't pay the right rates for those usages. When negotiating with clients, they pay for a whatever day shoot, only for once/one issue. If they want to use it more, they need to pay you more. Don't let them bullying you into allowing them full rights to the photo's usage.
Remember, this is a business. You also have to pay rent/support families. When you sit in front of clients, be stern. If you are being commissioned, good, but it's important to ask what the usages are going to be. Always know what the purpose is. Always give terms and conditions. It's to let people know.
Publishing/Books
Publishing feeds into fine art. Publishers are more likely to publish for you if they know you're going to be shown in a gallery, meaning people are willing to buy a book, but can't afford the actual prints. They are valuable in terms of a show.
Exhibitions
Several forms now, fine art, documentary, installation, film, etc.
Commissions
They make more money. Editorial, corporate, etc. day rates depend on the job you do. Commercial is typically £10,000 a day, editorial is £1,000 a day, and corporate is £2,000 for example through Institute.
The Story Institute
Frank Evers and Matt Shonfeld knew they had a roster of fantastic people. They get emails from outside photographers with amazing projects too. They decided that if they saw a project they liked, that they would take it on a global and exclusive license. Longform journalism generally makes the cut for their exposure scheme. It creates amazing content for the website, but the work and artist also get the full treatment. It's represented well and shown to clients. Sometimes when the content does well and they try displaying more of the photographer's content, they can sometimes be absorbed as a part of Institute's roster. Their primary goal and objective is to be known for great stories. They are known for being expensive, but that is because a cover feature is worth more than two pages, even if they are priced the same.
Advice
Think about different client partners. Working with grants is important, foundations, institutions, sponsors, etc. Get to the right people who would be interested in that kind of project. There are examples of photographers who have done well, making a living, purely being funded by grants. Any sales they make afterwards are bonuses too.
Find an aesthetic. Make you images look like you've made them. Look at Peter Hugo for example. Something recognizable. Diversifying too much can damage your brand.
Understand that people never commission landscape photographers. They always commission portrait photographers. Or people shooting images with people in them.
Check out
Mentioned in the presentation: